Get SEO Link building (Backlinks)
SEO Link Building (Backlinks) helps in traffic growth when your targeted keyword ranked on top. In link building strategy, we will create links your website from other websites that will give a preference to your website. Search Engines (like Google, Bing etc) will evaluate those backlinks and give a push in ranking according to the various facts (such as relevancy, competition, Search volume, type etc.).

---
Popular Services in Link Building (Backlinks) to buy :
---
---
Big Discounted SEO Service of the Day :
---
---
Other Link building (Backlinks) Services :
---
---
---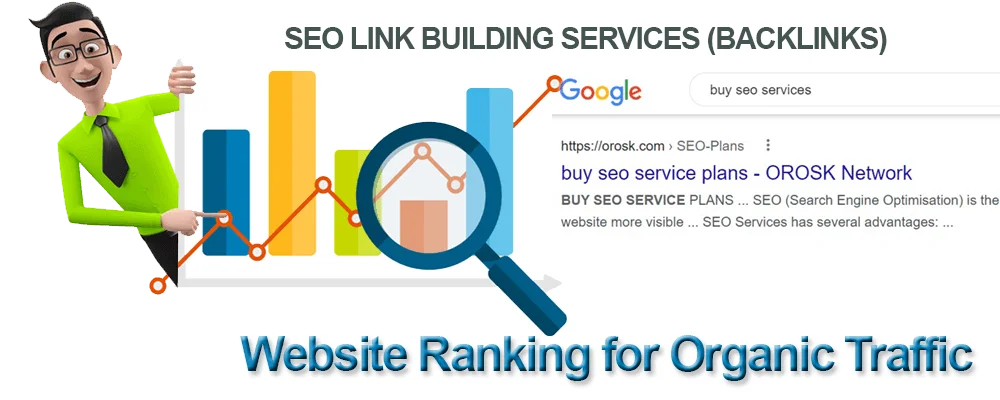 | | |
| --- | --- |
| What is Off page-SEO? | Off Page-SEO is the set of actions that are applied from outside without using internal access of the website or any websites related consoles (such as google webmaster console or other). These actions help in website ranking. The Off-page-SEO activities could be through audience or by yourself. |
| What is Link Building or Backlinks? | Link building is the strategy to create links from third party websites to your websites. It helps to navigate the Traffic from other websites to your website. The Backlinks sources could be anything such as blogs, articles, social media, documents and many things. |
| How the Link Building or Backlinks helps in Ranking? | The Links your created to your website are giving a preference to your websites. The Search engine algorithms (such as google, Bing or other major search engine) evaluate this preference according to the types of links and push the website page rank to higher in search engines. |
| What is Link Baiting? | Link baiting are the links that you did not create by yourself but generated naturally by audience in other websites. It is only possible if your website content is valuable to them then obviously, they will share your content in many places, that's how you earn the links. |
| What is DA (Domain Authority)? | DA (Domain Authority) is the Search engine ranking points. This ranking score standard was founded by Moz company. The range of these score points are between 1 to 100. The Score points are varying according to the matrix system such as the number of website links you got with random number of DA scores, and random number DA scored website linked to those websites- those linked to your website. |
| What are the Activities in Off page-SEO? | The Activities of Off page SEO are link building, social media, branding. These activities include all types of sources such as images, texts, videos, audios, documents. |
| What are the activities in SEO Link building or Backlinks? | The activities of SEO Link building are blogs, articles, social media, bookmarking, forum posting, and many more. |
Link Building in detail
Link building is a central part of search engine optimization (Website optimization) that can essentially affect a site's internet based perceivability and notoriety. It includes getting excellent backlinks from other reliable and important sites, which signs to search engines that a site is a sound and definitive wellspring of data. One of the main advantages of link building is its capability to further develop a site's search engine positioning. Search engines like Google use links as one of the elements to decide the quality and importance of a site. At the point when a site has top notch backlinks from other definitive sites, it can assist with helping its power and further develop its positioning in search engine results pages (SERPs). This can build the perceivability of a site and make it bound to show up at the highest point of search results when individuals search for related catchphrases. Incidentally, getting Search engine optimization backlinks from our site is very clear. As well as further developing search engine rankings, link building can assist with expanding site guests. At the point when another site links to your site, your site might get reference traffic from that other site. This can increment site traffic and, therefore, increment deals or transformations on your site. The capacity to help the development of a site's power and believability is one more advantage of link building. A site can become known as a dependable wellspring of data on the off chance that it gets backlinks from other notable and regarded sites in its area. For new or more modest sites endeavoring to become famous as authentic members in their area, this may be very urgent. Besides, link building can increment memorability by presenting a site to new crowds on different sites. A site's image is presented to another crowd that might not have recently been aware of it when it is included on another site. This might support helping memorability and attracting new clients.It's memorable's pivotal that link advancement ought to be completed morally and normally without the utilization of manipulative or nasty methods. Procuring excellent backlinks from important, trustworthy sites ought to be the point of link building to raise a site's openness and notoriety. When completed accurately, link building can be a powerful device for helping a site in accomplishing its Website optimization targets and cultivating on the web achievement.
Give us a Call TODAY
+91 77196-68289
or fill in the
REQUEST A QUOTE
.